Strategies and Techniques
Put an end to uncontrolled
credit card debt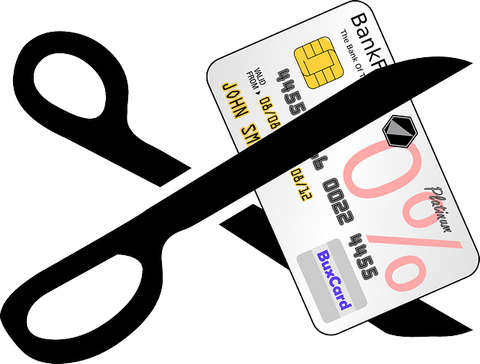 Credit cards are wonderful and terrible. Wonderful, in that they allow us to buy things online, over the telephone, and in person when we don't have enough cash in our pocket. Terrible, in that there so wonderful that we can use them too much, irresponsibly so. It's like being on a diet and having beautiful chocolate cake sitting on your table in front of your face.
There is an amazing story about Soviet Russian leader Leonid Brezhnev. During the height of the Cold War, his government was running a test of their readiness to respond to a nuclear attack. The exercise involved chairman Brezhnev pushing the nuclear button. It was not going to actually launch a nuclear war, but it was going to get the exercise underway.
When they brought the suitcase with the button to Brezhnev, he asked repeatedly if this was just for a test. He was assured that it was so, over and over. As he lifted his hand to push the button, he broke out into a sweat. The test was almost canceled because Brezhnev could hardly bear to push that button!
The Painlessness of Credit Card Debt Destruction
Brezhnev could not push that button easily because he saw in front of his eyes the consequences of it. Not every leader or general in a war had that feeling. The sterile atmosphere of an office with buttons conceals the horrors that those buttons could unleash on real people.
It's an extreme analogy, but it's the same psychology for credit cards. Before we had them, we couldn't buy the product if we did not have the physical money. The action and the consequences were in the same place and time. A credit card, however, is completely sterile. No consequences are felt until the bill arrives a month later.
What makes things worse is that the bill doesn't even ask us to pay everything. We can buy a home entertainment system for a few thousand dollars, and just be asked to pay a couple of hundred! That's the problem.
Solutions to Reduce Credit Card Debt Discipline Problems
The best solution is to use cash. We don't always have cash on hand, so here is another solution:
Use a debit card instead of a credit card. Debit cards cannot exceed your current bank balance, so you know you will be able to cover what you are buying. If you can't, you won't buy it.
Have no more than two credit cards. Use one for almost all of your purchases, and the other is for emergencies only. While this won't solve the problem of runway credit card spending, it removes one temptation. Knowing that I have credit of $10,000 on four different cards, I am tempted to spend a lot more. If it's just on one card, I will be more careful.
Constant Score-keeping Really Helps
Would you enjoy a basketball game if the scoreboard stopped working? Probably not. It's the score that makes it fun and exciting. We can use the same psychology with our credit cards.
Click here to run the Debt Auditor Financial Independence Calculator
You need to know how much you can afford to pay back per month. Planning to pay the card in the fall is the wisest course of action, because credit card interest rates are through the roof. Paying just the minimum balance means that you will pay much more in interest than your purchases actually cost.
You need to then keep score of how much you have spent. Do this daily. Use a program or a spreadsheet. This will automatically motivate you to control the spending urge. If you can create a system to compare this month to last month, you'll find yourself competing with yourself to do even better in responsible spending.